To inquire about a small group (up to six person) custom "support of the Cuban people" visit to Cuba, fill out our application page. We will design a visit that fits your interests and budget at a cost that is often much less than fixed tours with large groups.   A tax deductible deposit to Green Cities Fund will confirm your reservation.  Travelers arrange their own travel to and from Cuba. Specialized ecological tours are also available through our Eco Cuba Network. Simply indicate your interest in the Cuba Travel application.
---
HAVANA, THEN AND NOW

Sunday Morning with OR Books
For close to 500 years Havana has been a cultural crossroads, a meeting point for people from the Americas, Africa, and Europe. Yet since the last century it has remained obscure to many from the United States, its neighbor only 90 miles to the north. Here, frequent Cuba traveler and History of Havana co-author Dick Cluster offers his impressions of a recent, post-Trump trip to the capital, and guidance for others wishing to travel there. How does he suggest taking a stand against the politics of fear-mongering and disinformation? By visiting Cuba. —OR Books
You can still travel to Cuba—and you should.
Before and since my recent trip to Havana, I was struck by how many otherwise well-informed Americans said to me, "Oh, I thought we couldn't go any more, since Trump." This is completely false and results from a combination of State Department shenanigans, Trump bluster, and bad reporting in the mass media (which frequently state, incorrectly, that individual travel is no longer allowed except for Cuban-Americans, while all other travelers must go in groups).
The facts are quite different.
"Tourist travel" remains illegal now, just as it was under Obama, because of the economic embargo that can be repealed only by the Congress. But the commercial airline service begun under Obama remains in place, and the only requirement for using it is to check off one of the twelve categories for permitted travel on the form provided by the airline.
There are twelve categories of permitted "general license" travel (i.e., without applying for any special permission from the Treasury Department) ranging from research relating to one's profession, to religious or humanitarian aid, to "support for the Cuban people" and more.
The only change in general license categories since Trump took office is the elimination of individual "people-to-people educational travel." This was the broadest and most widely used since its creation by Obama, true. But the "support for the Cuban people" category is almost as broad, provided that travelers stay in private homes (e.g., through Airbnb, which continues to book stays in Cuba) and eat some meals in private restaurants. Even Marco Rubio, facing criticism that the new regulations were undermining the relatively new Cuban family business sector, tweeted on June 16, 2017, "Individual Americans can travel to #Cuba under Support for the Cuban people category but must use privately owned lodging like AirBnB."
As far as I can tell, there has been no increased scrutiny of travelers or other change in enforcement of the travel regs. Most travelers report being asked no questions at all on re-entry to the U.S.
The other new development is the State Department's warning to "Reconsider travel to Cuba due to health attacks directed at U.S. Embassy Havana employees." This is a completely spurious warning. The "health attacks" remain unproven and, if they existed at all, were directed only at certain diplomats by unknown parties. Cuba remains among the safest countries in the world for foreign travelers, in terms of both crime and the public health system.
Nonetheless, the general feeling in Havana was that there had been a drop-off in U.S. visitors, and Cubans were unhappy about this. They liked the relaxation in tensions with the U.S., they liked having direct contact with U.S. citizens to better understand our country in all its complexity, and both the small-private sector and the crucial state service sector benefit from our presence and spending. Also, if travel declines, so will the number of commercial airline flights.
So, one more small action you can take against the politics of fear-mongering and disinformation: travel to Cuba, soon. Go as described above, or book one of the many group people-to-people tours offered by licensed providers of all sorts, ranging from non-profits like Green Cities Fund to cultural institutions, alumni associations, groups specializing in Cuba travel, and more.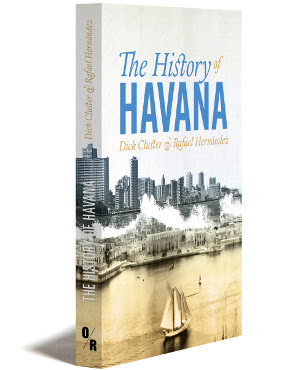 DICK CLUSTER and RAFAEL HERNÁNDEZ
"This beautifully written, reliably informative, and extremely sensitive account provides a delightful examination across time of the extraordinary human dimensions of an extraordinary people."
—Franklin Knight, Johns Hopkins University, Choice
---
Dear Cuba Travelers,
Please read the following press release issued by RESPECT (Responsible Ethical Cuba Travel) – a 150-member US professional association of non-profit entities, travel agencies, tour operators and other travel service providers dedicated to practicing and promoting ethical and socially responsible travel to Cuba.
---
September 30, 2017, Havana, Cuba –
Meeting here, RESPECT, the largest association of US organizers of travel to Cuba unanimously rejected the Trump Administration's Cuba travel warning and its decision to withdraw diplomatic staff from its Havana embassy.
The reaction came in response to Washington's announcement that it is withdrawing 60 percent of non-emergency staff from the US Embassy in Havana and is warning US citizens to avoid travel to Cuba. The justification for both is unexplained health problems that 21 Havana-based US diplomats have reported.
In addition, unidentified US officials said the US Consulate in Havana would suspend issuing US visas to Cubans, indefinitely. The US Embassy will continue to provide emergency services to US citizens in Cuba.
"Based on the evidence thus far and the fact that the State Department says no other US citizens have been affected, we believe that its decision is unwarranted, and are continuing to organize travel to Cuba and encourage others to do so," said Bob Guild, RESPECT Co-Coordinator and Vice President of Marazul Charters. He also stressed that US citizens and residents can legally travel to Cuba under US law, and that the State Department advisory in no way prohibits US persons from traveling to the island.
RESPECT is joined by US commercial airlines and others in the travel industry who have publically expressed their intention to continue Cuba travel. Gail Reed, RESPECT Co-Coordinator and MEDICC Founder, noted: "Cuba remains a very safe destination for US travelers."
The US Foreign Service Association, the powerful union that represents US diplomats around the world, also opposes any decision to withdraw US diplomats from Cuba. Association President Barbara Stephenson says "We have to remain on the field and in the game."
The US complaint about the health issues originated almost a year ago during the Obama Administration when the two governments were working toward rapprochement. As acknowledged by US Secretary of State Rex Tillerson, the Cuban government responded immediately and initiated an investigation, inviting the US government to cooperate.
At the invitation of Cuban authorities, the FBI went to Havana seeking evidence of what the US described as "sonic attacks" resulting in hearing loss and other symptoms. However, its agents found no devices or other evidence to explain the mystery.
None of the 500,000 US visitors to Cuba this year have reported similar health issues. Tillerson said this week, "We have no reports that private US citizens have been affected…".
Foreign Minister Bruno Rodriguez, speaking at the UN this month, reiterated that Cuba takes very seriously the protection of all diplomats in its country and would never cause them harm or allow others to do so, in accordance with the 1961 Vienna Convention. He also urged the US authorities to work more closely and effectively with the ongoing Cuban investigation, a point he raised again during his meeting with Tillerson this week.
Replying to the US move to reduce its diplomatic personnel in Havana, Josefina Vidal, Director General for US Affairs at Cuba's Foreign Ministry, called the decision precipitous and said it will affect bilateral relations and cooperation in areas of mutual interest. She noted that Cuba had urged the US not to politicize the matter and insisted that Cuba needed the active cooperation of US authorities to arrive at a definitive conclusion.
"We fear that such hasty action by the Trump Administration, independent of scientific evidence, may be motivated by politics rather than concerns for health and well being," said Walter Turner, RESPECT Co-Coordinator and President of Global Exchange. *"Thus, once again we encourage all US visitors to continue to travel to Cuba."
Tom Miller, General Counsel, Global Exchange &
President, Green Cities Fund
---
On June 16th, 2017 President Trump overturned many of President Obama's Executive Orders with respect to Cuba. On June 5th, 2019 the Trump, Rubio, Bolton, Pompeo, Abrams cabal further curtailed Cuba travel (and the incomes of ordinary Cuban families) by banning "people to people" travel to Cuba. This was in spite of what was considered by most to be a welcomed change in a 50 year failed U.S. policy of intimidation and that most Cuban-Americans and all Americans favored President Obama's policy of rapprochement. This reversal by President Trump appears to be a political pay off to conservative Cuban-American congresspeople, who have had a long-running feud with the Castro family,  for voting for Trump Care. 
Nevertheless, we persevere and will comply, as we did before President Obama, to make certain all trips to Cuba are licensed and legal. Although the Trump/Rubio/Bolton/Abrams cabal has ended "people to people" travel to Cuba, "
SUPPORT FOR THE CUBAN PEOPLE
" travel to Cuba remains and will still be permitted under new regulations effective June 5th, 2019.
Here are the latest updates on Cuba travel:
With decades of experience in organizing travel to Cuba, our staff specializes in custom tours for up to six people.  Complete the application, indicating any special interests, and we will contact you to discuss a personalized professional research or people to people visit. Once you have decided to proceed with a Green Cities customized visit, we ask an initial deposit of $250 per person, which enables us to proceed with reservations and more specific planning. Prices quoted do not include the cost of travel to Cuba, but we can refer you to experienced travel agents who will help you find the best among a growing number of alternatives.
We also cater to specialized individual and group tours for research purposes under a "General License" where participants will engage in full time non-profit research in their area of expertise.
From a pleased private tour guest on her first trip to Cuba:  *
"We had such a FABULOUS trip to Cuba.  Thank you so very much for your guidance and for introducing me to Sandra, my new best friend.  She made our trip so easy and smooth…. full service all the way.  It was a fascinating experience, can't wait to go again and also to send my friends."

 

With gratitude,

Melissa
For more travel comments click here.
* We will provide a complete custom itinerary and budget in advance for your approval, based upon your particular needs.  Prices are often far less than large group tours.
Please note that Cuban law requires purchase of medical insurance while in the country (a few dollars a day) and that we cannot provide guarantees
as to room and travel cancellations, so it's best to buy travel insurance, and to travel with flexibility, and a sense of humor and openness to new and unexpected
experiences.  While we do our best, if your car breaks down, don't fume, make new friends.  Travelers assume full liability.
To inquire about organizing a trip please fill out the application on our application page.